Fence & Gate Repair
We Offer Emergency Fence & Gate Repair Services
As leaders in the fencing industry, we at Reliable Fence & Construction understand the crucial roles fences can play throughout various types of properties. If your fencing or gate is broken and needs repairs, our experienced team can help! We have more than 80 years of combined expertise regarding various types of fencing projects, including repairs. Our skilled craftsmen are ready to provide you with the best customer service and fencing / gate repair services available in the Portland area!
We can repair various types of damage, such as: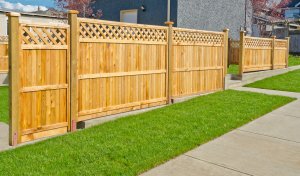 Rust
Vandals
Car crashes
Wind / weather damage
For those who need emergency repairs, we offer site security, fast gate / fence replacement, and / or fence / gate repairs. No matter what type of fence or gate you have, we can repair it in a timely manner. If necessary, we can supply estimates for your insurance company. It is our job to make your life easier by providing exceptional, professional, and affordable fencing services. Our Portland commercial and residential fencing company offers free estimates, so contact us at (503) 669-8148 for Eastside or (503) 252-5599 for Westside today!